David Lanigan
has been playing various types of bagpipes (Highland and Lowland pipes, Scottish smallpipes, Border pipes, shuttle pipes, and electronic pipes) for 37 years and has been influenced by the piping styles of Highland and Lowland Scotland, Ireland, Brittany, Galicia, and Cape Breton Island, Nova Scotia. He also plays Irish bouzouki, octave mandolin, tenor mandola, dulcitar (a hybrid of Irish bouzouki and mountain dulcimer), and several whistles.


He has performed
solo
and in bands throughout the Pacific Northwest at concerts, coffeehouses, festivals, Highland games, weddings and receptions, birthday parties, funerals, memorials, and other public and private events.

A veteran of piping schools in British Columbia, Idaho, Oregon, Scotland, and Washington, David has studied with many of the world's top pipers.

In 1996, he traveled to the Scottish Hebrides island of South Uist and took part in the first annual
Ceòlas
school, a reintegration of the music (piping, fiddling, singing) and step dances of the Gaelic peoples of Scotland.
Ceòlas
also affirmed links between Scotland and Cape Breton Island in Canada.

David is a former Pipe Major (nine years) of the Desert Thistle Pipe Band in Tri-Cities, Washington and a 25-year member of that band (1984-2009). He also played for a short time with Willamette Valley Pipe Band of Portland, Oregon.

In January, 2001, five of David's original compositions and arrangements were published in Cape Breton piper Barry Shears' tune book "
The Gathering of the Clans Collection, Volume 2
." Included in the book are tunes from pipers and musicians from the United States of America, Canada, and Scotland. A short history of the piping tradition in Nova Scotia, Canada is included as well.

In May, 2010, four of David's original compositions were published in the tune book "
The Northwest Collection of Music for the Scottish Highland Bagpipe
." This book is a collection of music, photographs, and essays composed, selected, and edited by Washington State piper John Dally. It also includes a brief history of piping in the Pacific Northwest. Tunes from pipers and musicians from the United States of America, Canada, and Scotland are included.

David is also available to play the Scottish Highland and Lowland bagpipes at weddings, receptions, parties, funerals, memorials, etc. For these types of solo performances, please see David's website
davidplaysthepipes.com
for more information.


ObscureDavidEmail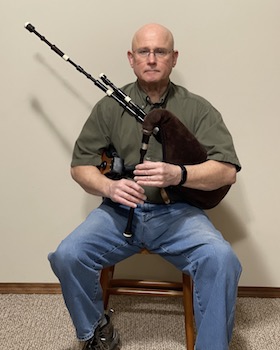 Scottish Lowland Bagpipes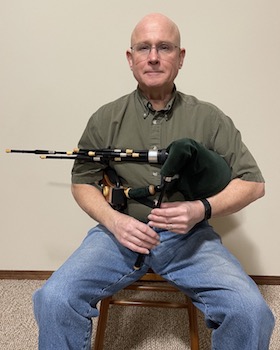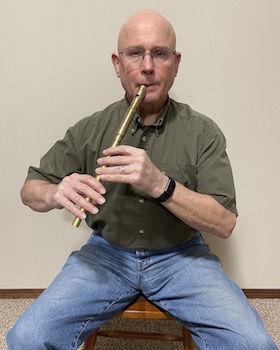 Whistle (this one is a Low A whistle)